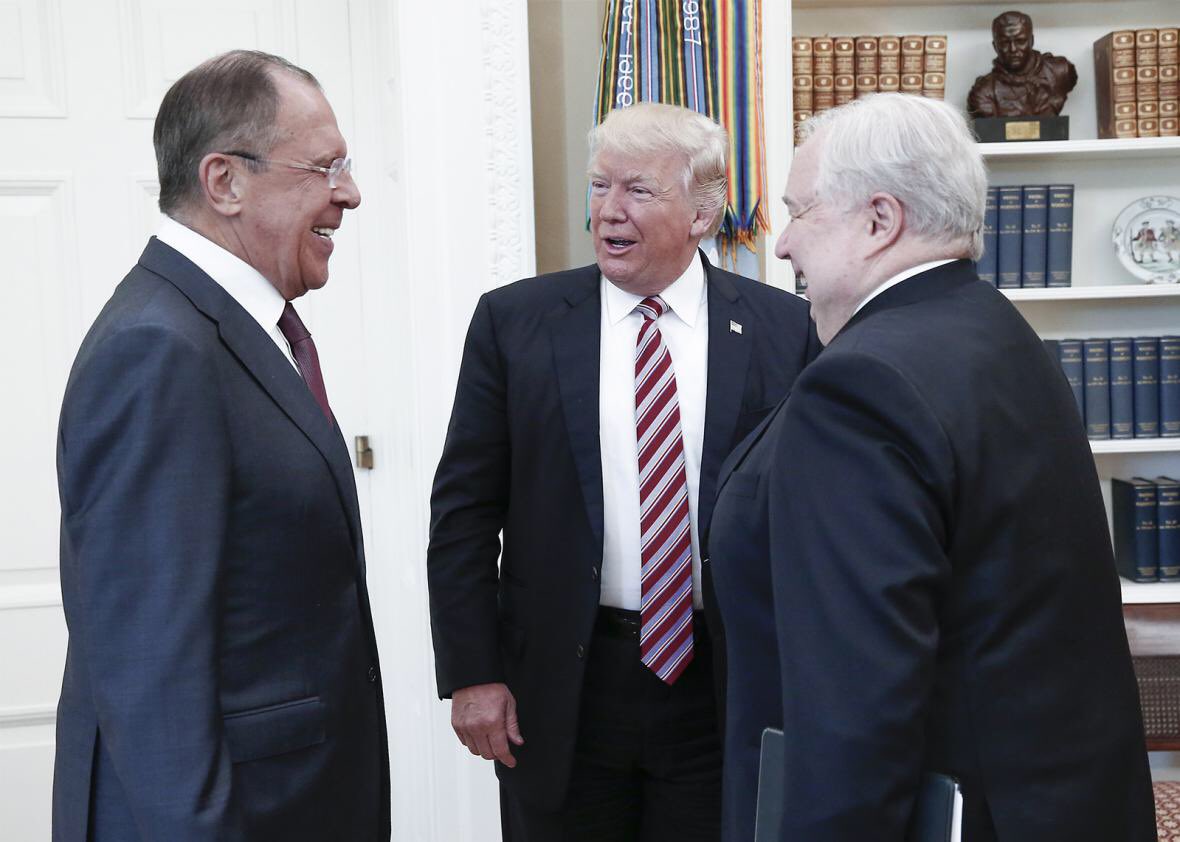 The Washington Post released a damning article that our president (who some are now calling our Leaker-in-Chief) actually gave the Russian diplomats highly classified and sensitive information during their recent visit to the White House. When finally confirmed, I will not be surprised.
One  big question that I would like addressed is, " Why did the #BLOTUS allow Russian press into his office when he wouldn't allow US press to cover the meeting?" Some wags have said that at least now the Russians no longer have to be hacking us. Trump will just tell them whatever they want to know.
Is he more concerned with informing the Russians than he is the American public? If so, why?
Not a week goes by that we do not see ever more evidence that our leader is under the influence of those whose plans and efforts are not in our best interest. There's far too much smoke; dark, heavy, billowing smoke, for there not to be a major fire in the oval office.
So the final question: Why hasn't the fire department be called?
What is newsworthy? It's far more than a philosophical question for me.
I took Journalism 101 before the turn of the century, and I have been working with journalists and reporters most of my adult life. I am also always actively seeking publicity for the various nonprofit organizations I work with and of which I am a part. I am comfortable with the media. I know a little about what is news and what isn't.
One of the first adages we were taught in my journalism class was that "if it doesn't bleed it doesn't lead." Some things never change.
Every since the collapse last month of the garment factory in Bangladesh, the news of this particular tragedy has been close to  continuous. It is newsworthy. Over 1125 people lost their lives. That is definitely news.
What bothers me is that the media coverage of that singular event continues after almost a full month. Over 1125 people died in a tragic accident. That's news. I understand that.
But, during this media feeding frenzy and shark-like ripping at the carcass of that story, over 25,000 of our family have been needlessly dying from hunger related causes every single day. That's over 750,000 unnecessary deaths in the month since the Bangladesh building collapse. Yet, I can find no coverage of these deaths.
Where is the media coverage for the victims of hunger? Why isn't the unnecessary deaths of these innocents newsworthy?
"If it doesn't bleed it doesn't lead." Maybe the victims of hunger are dying too quietly. They just need to bleed more.  Or maybe the world just doesn't give a damn about the poorest of the poor. It's obvious that the media doesn't. The hungry just are not newsworthy, even in death.
If we ever get serious about ending the moral obscenity of hunger in a world of plenty this will have to change.