I have blogged about the 7 deadly sins before. However, I felt the time was right for a gentle reminder.
These words of Gandhi are especially meaningful at this point in our country's history. We are fully embracing and living out all 7 of these deadly sins, and there's a terrible price to be paid.
The consequences for our nation are already being felt, and they will only get worse. We continue to create a dark future for ourselves and our children. And the price grows ever higher.
The wages of sin don't go down…and there's no defaulting on the payments.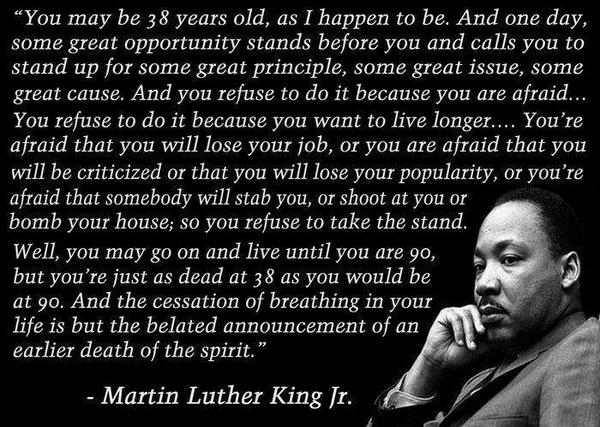 These moving words by Dr. King are timely as we approach a time of massive transition and change in our country. We are called to love one another and to seek justice for all. We cannot allow fear of any measure to keep us from speaking the truth and acting on behalf of those who need our help.
As people of faith we need to be a beacon of hope to all those around us that are being told and being shown that many in our society do not value them, and even hate them. We are also called to love those so fearful that they allow their anger and hatred to lead them to verbal abuse and violence against others.
Jesus calls us to be agents of reconciliation. That means we must care enough to get in the middle and show a more excellent way. We must have the courage to act. We have to demonstrate that peace is possible. The answer isn't fear, but love.