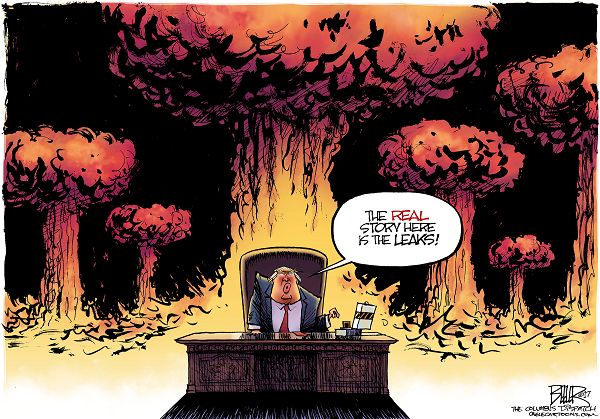 I can not remember any presidency in my seventy years that has been so dysfunctional, and such a total embarrassment to our country. What other of our nation's leaders has been so unable to tell the truth? bragged about being able get away with murder? laughed about being a sexual predator? completed ignored the Constitution? wasted so much on vacations so fast? continually attacked the press? could not stop whining?
The real story isn't the leaks. The real story is that the #BLOTUS is a one-man rolling crisis.  He is frighteningly dangerous to the health, well being, and future of our nation. He is causing great concern, even alarm among our allies and has made the United States a laughingstock around the world.
And the backstory is even worse. His appeal to the lowest common denominator points out the serious, even fatal flaws in our society. Those supporting him are so wedded to his bigotry and clearly racist agenda that they are willing to ignore the truth.
The real story is that this president is a total disaster.